2020.05.08 – Weeks in Review
Hello everyone! I hope you and your families are staying safe and healthy during this time. Here's an update on what we've been up to over the past few weeks.
Tri-County Public Health Orders
In case you missed it, our "Stay at Home" orders will be transitioning to "Safer at Home" at 11:59 PM tonight (May 8th, 2020). For a brief overview on what that means, check out the graphic below. If you want more in-depth information, you can check out Colorado Public Radio's article here. For a detailed break down of how different parts of our city are being impacted by COVID, you can check out Tri-County Health's data portal here.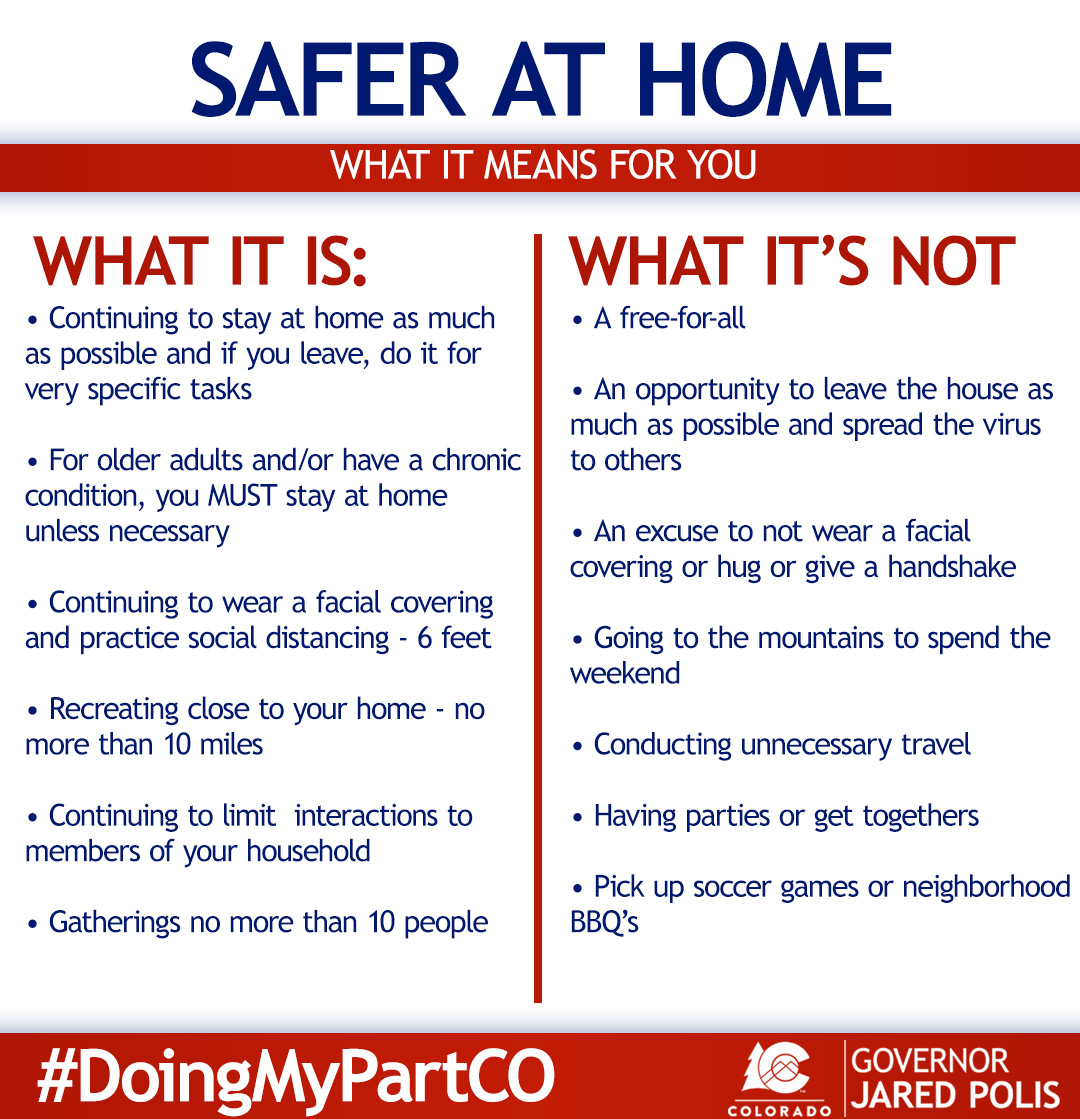 It is important that we continue to take the COVID pandemic seriously, especially as we begin to reopen services. We have gotten to this place by practicing social distancing and following proper hygiene etiquette (including masking), but the progress we've made could be undone by folks treating this as a return to "normal."
Legislative Update
City business continues, pandemic or otherwise. Here are a few key items that we've been discussing.
Funding our "Nexus" Programs
As you may know, our now defunct red light camera system was the primary source of funding for a group of programs closely tied to law enforcement, commonly known as our "Nexus" programs. Whether it is domestic violence shelters, victim's advocacy services, or gang intervention programs, these important services have needed council action to keep them going at reduced funding levels. Council Member Angela Lawson has introduced an ordinance to increase our marijuana sales tax from 4% to 5%, which is estimated to provide just over $1M per year in additional revenue which will allow us to fully fund our Nexus programs. I am strongly in favor of this tax increase as Aurora will still enjoy a lower sales tax rate on marijuana than our neighboring municipalities while allowing us to fund proactive programs that keep our residents from becoming criminal justice-involved and other important services that preserve public safety.
Criminalization of Smoking Hemp
An item on our May 4th, 2020 council meeting agenda called for criminalizing the public consumption of hemp as though it were marijuana. Hemp does not cause the user (or those around them) to get high and is often used for its pain management properties. Based on these facts, I didn't see a need to make a harmless activity illegal in our city. I asked our legal staff and a representative from our police department if there were other means of differentiating between marijuana and hemp, and they answered that our police department had procured a few test kits that would allow them to do just that, though they couldn't yet vouch for the efficacy of the tests. I asked for the matter to be tabled until we were able to verify the kits worked as advertised, and all but two other members of council voted in support of tabling the measure until then.
History shows us that marijuana prohibition is a policy that was born out of a combination of racism and a desire to attack counter-cultural movements in a roundabout fashion. While we cannot flout federal law as a city, we can act to ensure we don't continue to add ways to criminalize people for harmless activity to our local code of ordinances. I am hopeful that the kits procured by our police department are proven to be reliable so we don't have to revisit this issue.
Masking Requirements
I am disappointed to report that some council members and many county commissioners that serve our city have been putting politics and pseudoscience above public health, including when it comes to masking. Having sat in on multiple Tri-County Health briefings since the crisis began, I can tell you that the Executive Director of the Tri-County Health Department, Dr. John Douglas, has said on multiple occasions that while there is not yet a peer-reviewed study around the efficacy of using non medical-grade masks, current trials are showing as much as a 50% reduction in potential to transmit disease through the use of cloth masks. Nearly halving the risk of transmission in our community is reason enough to support a masking requirement in Aurora, and I have strongly encouraged City Manager Jim Twombly to enact this order under his emergency powers.
We have all lived under a "no shirt, no shoes, no service" regime for as long as I can remember. Adding "no mask" to that list (with exceptions for those that have medical or accessibility issues) for the duration of the crisis is a small price to pay for such a large public health impact.
Ward IV Town Hall
Our next town hall will be on Thursday, May 21st at 6:30 PM via WebEx and Facebook Live.
Greg Hays will be providing us with an overview of our city's budget, and Earl Staelin will be joining us for a presentation on public banking and how we can avoid austerity, revitalize our local economy, and finally get our road maintenance fully funded during this public health and economic crisis by putting our existing tax dollars to work for us. We'll also have an open Q/A at the end of the meeting. You can register for the meeting by clicking here.
Wrapping Up
As always, you can reach me at jmarcano@auroragov.org, by phone at 720.634.6927 (text preferred), on Facebook, on Next Door (Juan Marcano, Chaddsford neighborhood), and on Twitter. Stay safe, wear masks while out in public, and I hope to see you at our next Ward IV meeting!
In solidarity,